Un truc qui m'agace par-dessus tout lorsque j'installe une nouvelle machine, c'est les logiciels pré-installés et non sollicité. Le pire, c'est que même sur une version Windows 10 professionnel, on se retrouve avec des logiciels tout à fait professionnels tels que CandyCrush, Solitaire, Netflix et j'en passe. Logique.
Il y a plusieurs solutions pour supprimer ces logiciels. Il est tout à fait possible de le faire manuellement, mais ça peut être long. Alors il y a des logiciels comme Ccleaner, ou encore 10AppManager qui vous permettront de le faire un peu plus rapidement, mais ça reste de la désinstallation des logiciels un par un et loin d'être automatisée.
Aujourd'hui je vais donc vous parler d'un petit script powershell que j'ai découvert il y a pas longtemps et qui va vous permettre de désinstaller tous les bloatwares de Windows 10 mais pas seulement. Cet outil sera aussi capable de vous aider à supprimer complètement Cortana par exemple.
Nous allons parler ici de Windows10Debloater, qui est le nom de ce script powershell que vous pouvez télécharger sur Github
Ce script peut vous aider à créer une image propre de Windows 10 en supprimant tous les logiciels non sollicités.
Voici les applications qui seront supprimées de Windows 10 :
3DBuilder, Appconnector, Bing Finance, Bing News, Bing Sports, Bing Weather, Fresh Paint, Get started, Microsoft Office Hub, Microsoft Solitaire Collection, Microsoft Sticky Notes, OneNote, OneConnect, People, Skype for Desktop, Alarms, Camera, Maps, Phone, SoundRecorder, XboxApp, Zune Music, Zune Video, Windows communications apps, Minecraft, PowerBI, Network Speed Test, Phone, Messaging, Office Sway, OneConnect, Windows Feedback Hub, Bing Food And Drink, Bing Travel, Bing Health And Fitness, Windows Reading List, Twitter, Pandora, Flipboard, Shazam, CandyCrush, CandyCrushSoda, King apps, iHeartRadio, Netflix, DrawboardPDF, PicsArt-PhotoStudio, FarmVille 2 Country Escape, TuneInRadio, Asphalt8, NYT Crossword, CyberLink MediaSuite Essentials, Facebook, Royal Revolt 2, Caesars Slots Free Casino, March of Empires, Phototastic Collage, Autodesk SketchBook, Duolingo, EclipseManager, ActiproSoftware, BioEnrollment, Windows Feedback, Xbox Game CallableUI, Xbox Identity Provider, and ContactSupport.
Un Script Powershell avec Interface Graphique (GUI)
Windows10Debloater, est disponible en version GUI comme vous pouvez le voir ci-dessous, mais également en version silencieuse, sans aucune interaction utilisateur.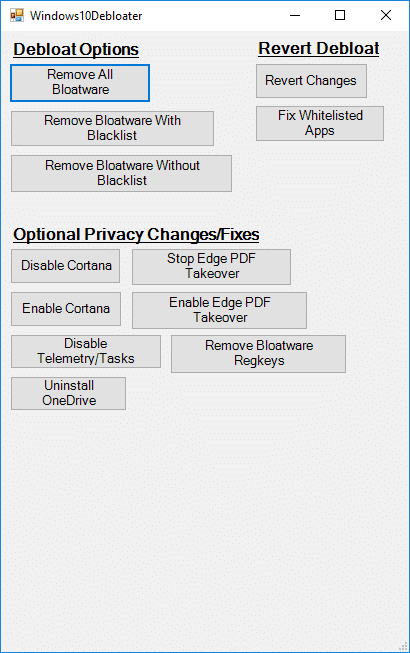 Remove All Bloatware

 

: Vous supprimez la liste des applications citées un peu plus haut, que l'on peut appeler « Whitelist« 
Remove Bloatware With Blacklist

 

: Vous supprimez les applications de la BlackList (modifiable dans le code du fichier powershell)
Remove Bloatware Without Blacklist

 

: Vous supprimez les applications de la whitelist, excepté la Blacklist (modifiable en dur dans le code du fichier powershell)
Bien évidemment, vous pourrez également revenir en arrière si besoin.
Et cette application Powershell ne se cantonne pas seulement à la suppression des Bloatware. Avec Windows10Debloater, vous allez pouvoir également faire un peu de ménage sur votre Windows 10 en effectuant les tâches suivantes : 
Désactiver Cortana
Désactiver la télémétrie
Désinstaller OneDrive
Désactiver la lecture de PDF avec Edge